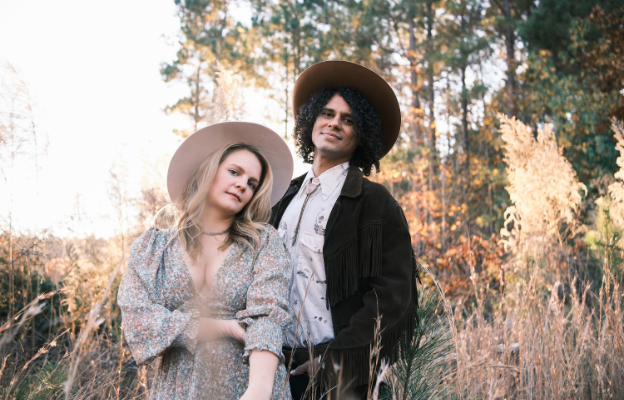 Violet Bell
"Violet Bell encapsulate the sound and mystery of Appalachia while unveiling through song and stories how ancient folklore can connect to modern day life. Band leaders Ross and Ruiz-Lopez flow fluidly between guitar, banjo, and fiddle, with Ross' both powerful and haunting vocals at the center. Performing from duo to quintet, each configuration is undeniably captivating to the audience. In their young career, they have been featured at festivals and events across the country, including Americanafest 2021 and as musical ambassadors for the US State Department."
Representation and Touring Formats
Representation: PAC's and Festivals – North America
Touring Formats:  duo, trio, quartet
Hailing from the forests of North Carolina's Eno River, Violet Bell brings forth the lush and sinuous sounds of Americana-Folk music. Lizzy Ross and Omar Ruiz-Lopez draw on a thread of untamable energy and natural magic passed down through generations of storytelling. As a duo with wildly different backgrounds, Violet Bell has a unique perspective on the roots music traditions that inform their sound. They're tending to traditions and creating a new way forward for like-minded musical innovators, with their shared humanity at the forefront. With their forthcoming album, Shapeshifter, Violet Bell encapsulates the sound and mystery of Appalachia while unveiling how ancient folklore can connect to modern day life.
As a kid, Ross bounced from the Chesapeake Bay to New York City after her parents divorced. The city was magic for her young brain and her divergent families brought a wide array of musical influences – Coltrane, Patty Griffin, 90's pop-rock – into her life (the latter of which resulted in a very short stint in a Green Day cover band – "yes, really" she says). Fifteen hundred miles away, Panama-born Ruiz-Lopez was growing up in Fajardo, Puerto Rico and soaking up the sounds of Caribbean folk, bachata, traditional salsa music, and the occasional American classic-rock. Nearly an ocean apart, both fell in love with playing music and all it afforded them – creativity, independence, an outlet for excessive energy. In their twenties, they both found themselves in North Carolina where their musical sensibilities were honed, appreciated, and expanded. Their introduction felt serendipitous; the two started playing music together and noticed almost instantly that the connection was real and important. Violet Bell emerged.
After a few years of touring, recording, and building a home together, the sound of Violet Bell has mellowed and settled into a rhythm that feels unapologetically their own. Shapeshifter initially began as a re-telling of an ancient Celtic myth. In the story, a fisherman steals the seal skin of a selkie, a mythical creature who is part seal, part woman. Imprisoned on land, the selkie lives with the man for years, even having a child with him, all the while slowly fading away and endlessly trying to find her way back home. While not every song is a direct reference, the selkie myth became a focal point for the duo's creative process. They found modern questions in the ancient archetype – how do we stay true to ourselves in a world defined by dominating and conformist systems? How do we close the gulf between who we are and who we pretend to be? Just as the selkie tries to conform and adjust to life on land, are we all just trying to fit our dreams, aspirations, shadows and wounds into tidy boxes so that we can survive? What would it take to recover our wild souls and a sense of being at home in ourselves? These are some of the questions the duo ponders throughout the album.
The opening single, "Meet Me in the Garden," is a hymn dedicated to the love and pain folded into the deepest of relationships; it's about forgiving, accepting change, and letting the love that has gone before resound into unfolding relationships. "Fish to Catch," is appropriately about a lonely, isolated fisherman. Finding himself caught in the mundaneness of the day to day and haunted by his dreams and the fear that he'll be taken by the sea with no one to mourn him, he sings, "Nobody'd know except me and the sea, if I never came home." "Flying Free" tells the joyous story of the selkie returning to sea, weightless, free and once again whole. "All The Stars" is an ode to the North Carolina sky; one that holds a high significance in the duo's Appalachian music roots and traditions, inspired as it is by the folk classic "I'll Fly Away". In the final song written for the album and recorded in one take, "Junkie," expresses the notion of surrendering to truth and letting yourself feel what you feel, ultimately becoming awake to life, despite the pain that might come with that.Throughout the entire album, Violet Bell gently reveals their supreme talent of storytelling and prominent gift of transporting their listeners to places deep within each song, divulging intimate moments through the album that feels distinctive to each listener. Letting go of control and allowing the music to lead is what makes the music come to life, as Ross and Ruiz-Lopez breathe life into each song, one note, one tone and one word at a time.
Each half of Violet Bell brings a unique satisfaction to the music. At their live show, both Ross and Ruiz-Lopez flow fluidly from guitar to banjo to fiddle to acapella while incorporating an impressive myriad of other instruments along the way. Each configuration brings new life, yet they are all undeniably captivating to the audience. This energy translates into their recordings as a palpable longing that drops the listener squarely into the story. Just as on stage, in the studio the pair complements each other in a way that cannot be contrived. The result is a fresh, yet approachable take to modern folk music. Shapeshifter will be available in October 2022.
No Depression  – "One of the best duos working in Americana today"
Wide Open Country – "Timeless… a stunning celebration"
Bluegrass Situation – "Shapeshifter is a gorgeous exercise in community building, an artful subversion of societal norms, and a stunning folktale packaged in accessible, resonant music with a local heartbeat and a global appeal."
Tonic grain – "radiant and poetic…stunning fusion of fiddle, banjo, and guitar."
Americana Highways –  "a collection of songs that binds the songwriters to those lyrical storytellers of yesteryear…a cross-generational journey that is felt throughout their latest single, "Fisherman's Daughter""
Glide
 – "poignant storytelling, tight harmonies, and dynamic musicianship throughout."
The Boot
 – "Their most ambitious project to date"
The Story Within Violet Bell's New Folk Album Is More Than Just a Celtic Myth
By Justin Hiltner, The Bluegrass Situation
Americana duo Violet Bell's new album, Shapeshifter – out October 7 – tells a story of the mythological selkie, a mermaid-like creature from Celtic folklore that embodies a form that's half woman, half seal. In their retelling and reshaping of this ancient folk narrative, they tease out its connections to the transatlantic journey of American roots music, to the cultural and social melting pot of the "New World," and to agency, intention, and self-possession.
A concept album of sorts, the music is remarkably approachable and down-to-earth, while the stories and threads of the record tell equally ordinary and cosmic tales. At such a time in American history, with fascism once again on the rise and attacks on bodily autonomy and personal agency occurring with greater frequency at every level of governance, Shapeshifter offers a seemingly timeless lens through which to engage with, understand, and challenge the overarching social and political turmoil we all face on the daily. Moreover, it's an excellent folk record, demonstrating Violet Bell's connections to North Carolina, Appalachia, and the greater communities that birthed so many of the genre aesthetics evident in the album's songs. read more
---
"Shapeshifter is a gorgeous exercise in community building, an artful subversion of societal norms, and a stunning folktale packaged in accessible, resonant music with a local heartbeat and a global appeal." Justin Hiltner, The Bluegrass Situation
"Violet Bell was absolutely captivating. Their headlining performance was the perfect way to conclude our music festival! Our patrons have specifically requested for their return and we'll be happy to oblige as they were excellent to work with both on and off the stage. An evening with Violet Bell is an invigorating experience that you don't want to miss!" – Elizabeth Terrell (Music Series Producer, Zeiders American Dream Theater)
"Violet Bell delivered a breathtaking performance. They kept the entire audience mesmerized during the entire set. We had so many requests to bring them back for future shows! Lizzy and Omar are also fantastic to work with and really helped with a lot of promotion for the performance. They truly are pure talent – you can feel their passion for the music with everything they do. Your community needs Violet Bell in your next season!"
– Kathleen Hebert – Holly Springs Cultural Center
"Lizzy and Omar of Violet Bell were a pleasure to work with, and most importantly, a treasure in performance – the audience was rapt and enthusiastically responsive. Tremendously talented and thoroughly professional, yet entirely heartfelt, open, and approachable. Plus they laugh easily and often."
– Mark Piepkorn, Stage 33 Live
"The crowd can sense their professionalism as soon as the music starts to play. Lizzy and Omar have become a duo where the sum of the parts is times 3. Talented and engaging, their shows are a pleasure to attend, with great sound and harmonies. If you haven't seen or heard them live, GO! Or better yet, Book them."
– Dean Johnston, Music in the Box
"In a crowded field of Americana artists who claim influence from disparate genres…. Violet Bell truly pushes against the limitations and expectations of genres and genders.. Ross's soulful vocal gymnastics sound downright wild… defying stylistic bounds."
– Indyweek
"Ross channels the spirit of Eva Cassidy, and Ruiz-Lopez's violin performance is chocolate."
– Woodsongs Old-Time Radio Hour
"Atmospheric, captivating vocals… Durham duo Violet Bell puts an avant-garde twist on traditional roots music."
– IndyWeek
"… an elegant marriage of strings and vocals ….. Delicate yet powerful, their soundscapes are founded in folk, but their music continues to become more stylistically diverse and lyrically vulnerable"
– Encore Magazine, Wilmington NC
The members of Violet Bell are passionate and experienced music educators who teach with the same principles of creativity, discovery, and cultural inclusion that they bring to their music. They are 2019-2020 cultural ambassadors with the US State Department's American Music Abroad program, and practice music education in the Durham area, providing youths with instrumental and vocal instruction as well as teaching them about the realities of life for professional touring artists. Violet Bell has led workshops and collaborations with KidzNotes, the Wake Forest Community Youth Orchestra, The Jacksonville Children's Chorus, the Wortham Center for Performing Arts, and many more.  
Believing that traditional music must constantly evolve, Violet Bell specializes in educational outreach & residencies as a means of helping audiences creatively connect their cultural past with their personal future.
Violet Bell is equipped to offer a variety of different outreach formats ranging from single sessions to multi-week residencies on a variety of topics including songwriting, performance, improvisation techniques, music business, and clinics for bands.
Here are just a few examples of outreach and educational programs available. Violet Bell can customize a program to create a unique educational experience for communities of all ages and skill levels!
Where Do Songs Come From?
Where Do Songs Come From? is a 60 to 120 minute educational workshop concert that explores creativity, self-acceptance, and empowerment through the lens of songwriting. Through captivating performance and interactive activities, Violet Bell connects students with their own creative power and inspiration. Students learn mindsets, tools and practices to cultivate an inner creative dialogue, and to produce creative works sustainably.
Finding the Gig That's Right for You!
As self-starting musicians who have played over 400 shows in this project alone, the members of Violet Bell have a lot to offer to budding musicians interested in performing. Through captivating performance and interactive activities, Violet Bell leads students through the basics of identifying their goals, connecting with their audience, and building sustainable relationships with music professionals in their community. 
Improvisation and Arrangement in American Styles
The members of Violet Bell come from different musical traditions – classical, folk, psychedelia, R&B, and jazz – and are no strangers to blending cultural influences and improvising between genres! Through performance and interactive activities, Violet Bell teaches students about improvisation and active listening, and how band members can blend influences and have musical conversations to create new sounds. This workshop challenges students to consider genre boundaries as cultural boundaries, the myriad cultures at play in American music, and their place in the future of our cultural conversation. 
Examples of standard outreach packages:
Single Session (45 minutes to 1 hour) The musicians work with students individually or in small groups.
Mini-concert with explanations
Demonstration of songwriting process
Using object writing as an inspirational tool
Q&A
Half-Day Visit : A morning or afternoon of four 45-minute sessions, allowing visits to additional classrooms or more time for individual and small group instruction.
Full-Day Visit: Morning session same as Half-Day Visit, followed by a concert in the afternoon.
Multi-Day Residency: All of the above, plus:
More individual or small group instruction
Students perform music with Violet Bell
Group and individual songwriting exercises
Exploring the connection between ancient mythology and modern identity
For older and more advanced students:
One-on-one instrument lessons
Songwriting and performance critique masterclass
Music business and band management workshops