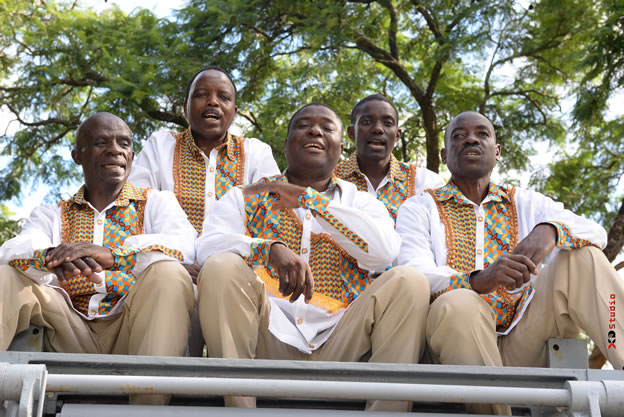 Black Umfolosi
Black Umfolosi is a self taught Acappella (Imbube) singing and traditional dance group that was formed in 1982 by the then school age members who wanted to develop themselves and contribute to their community. Specialising in imbube music, gumboot dance and Zulu dance, Black Umfolosi has toured extensively nationally and internationally  in Europe, USA, Canada, Australia and Asia.
Representation and Touring Formats
Representation: Exclusive – US Touring
Touring Formats:  Quintet
Educational: Residencies, workshops & school events
World famous acappella and dance group from Zimbabwe
Available for Concerts, Workshops and Residencies
Black Umfolosi were formed in 1982 by school friends in Bulawayo, Zimbabwe, who named themselves after the Umfolozi Omnyama River in South Africa- to where their ancestors can be traced. In 2009 The Black Umfolosi 5 continue to present their spectacular songs and dances thrilling audiences worldwide with a NEW LINE-UP.
Their performances are energy driven and completely engaging, mixing a great gentleness of spirit and song with an exuberance in dance. Their trademark harmonies mixed with intricate rhythms, clicking and clapping are highlighted during their brilliantly choreographed shows with a full range of movements from subtle to vibrant stomping and leaping! Their famous Gumboot Dances showcase the traditional styles and rituals of the South African mining regions and are a particular crowd pleaser.
The Black Umfolosi 5 also provide workshops and residences in dance, voice, theatre, costume design, poetry, mime and also address various issues affecting society today.
QUOTES
"Their music is fresh and surprising, with typical intricate rhythms, unusual harmonies and interspersed clicking, clapping and shouting, which combine to produce a natural funky and rugged aura" THE ROUGH GUIDE
"It was the best of all the festival, They have an incredible way to sing, to dance, a beautiful presence on the stage. Their simplicity, naturalness and cheerfulness was for us, at the end of the festival a beautiful present. MILAN FESTIVAL JULY 2007
"Their singing is a marvellous blend of rhythm, melody and harmony welded together with enormous complexity, but ending up with a sound that is acting simplicity" F ROOTS
"Marvellous harmonies, spine-tingling gospel singing and bare-torsoed, hard-hatted gumboot dancing" GLASGOW HERALD
WORKSHOPS
"I had something like 40 events in schools during the two weeks of our festival but Black Umfolosi was the most memorable one."
Education Co-ordinator – Warwick & Leamington Festival
'The guys are so inspiring, their harmonies and dance are just so wonderful and they are such lovely people it was truly an amazing Master Class.  Thank you!!' Platform One
"We learnt a lot about Zimbabwe and most of Africa…please come back soon"
Schools workshops – Yorkshire (UK)
"Their passion for teaching and sharing really shone here- and above all, they were approachable, generous guys." Kaleid Festival 2007
"You just blew us away!! I really enjoyed working with you; it was so much fun learning your brilliant moves and songs with you… I bet everyone will love our performance, after all we were taught by the best!!!" School children – Cheshire, UK
Workshops
Apart from the regular public shows, Black Umfolosi do a variety of programs as a part of Art in Education and Community Outreach.
Black Umfolosi carry with them so much experience and their own styles of workshops and can adapt certain aspects in response to themes, projects, abilities and preferences of the participants.
A capella and Dance Workshops
Performance geared workshop. For all age groups. Duration 45 mins. upto 2 hrs.
A recommended number of participants – 30.
The band can split into two teaching groups to enable 60 participants per session.
These workshops take place in schools, at festivals, music and dance companies, community theatres and venues. Black Umfolosi work with a group of people from within a school or community, leading towards a special performance at the end of the session.
Where this is possible, the group joins the artists in a local venue performance.
Black Umfolosi teach dance steps, in the dance workshop, and vocal parts, in the a capella workshop, that make up a particular dance or song, introducing the participants to Zimbabwean singing and dancing styles.
When it is possible to run two groups consecutively, each learns a different part of a song or dance. At the end of the session the groups combine the parts, or perform to each other to share their experiences.
One interesting dance is the Gumboot Dance; from the miners of South Africa who, not having alternative recreational facilities use their gumboots as a rhythm instrument, slapping and stamping.
Since the creative process is the element and important part of the workshop a band member is nearby to all participants to help them, to demonstrate, or to watch. The pace is as the participant wants it to be and the song/dance is broken into several parts to create in depth understanding.
Certain previous workshops have involved the participants being given a chance to write their own
lyrics to some of Black Umfolosi's songs.
Short workshops of 30 – 45 mins are available, particularly suitable for Infant Schools.
Informative Session
Normally done for school assembly.
Black Umfolosi performs two songs and a dance, sharing their brief history with the school. The students and teachers participate in either a song or a dance, and get the chance to ask questions on Zimbabwe; the people, the culture, the customs and the travels of Black Umfolosi.
This workshop is ideal for universities, colleges or schools exploring world music, history, geography or any other study on the Zimbabwean and Southern African cultural life.
Cross generational workshop
Children and elderly people Duration 1 – 2 hours
This could take place in an elderly peoples home with children from a local school.
Introduction of Black Umfolosi members and a brief history of the group.
The workshop participants introduce themselves or a representative introduces the groups present – depending on number of participants and time.
Demonstration by the band of dance and song.
The participants are broken into groups of equal proportions of elderly and youth. Under the guidance of a band member the groups are encouraged to devise a song and dance based on a Black Umfolosi/ Zimbabwean song.
The elderly and younger people will be encouraged to tell their stories through dance and song. In the process both generations will listen, learn, and enjoy the experience of being listened to.
This is a good way of bridging the gap between them.
Towards the end of the session, the groups are able to demonstrate their achievements to one another.
Followed by a discussion and feedback on the performances.
If raised by the participants Black Umfolosi can talk about how the different generations treat each other in Zimbabwe and what their expected role is.
A discussion may be held where the groups talk about their preconceptions and feelings towards one another, and how they feel about the African model and how the dynamic between generations works in their own country.
Informative session for community homes
For residents and staff
Just like all workshops, the style will differ depending on the needs of the specific group of people.
In general, Black Umfolosi, will share with the residents the experience of life in Zimbabwe.
The band will perform songs and dances. The residents will have the chance to ask questions and maybe sing something from their own tradition, which Black Umfolosi will improvise on to create a cross cultural work.
Audiences/participants are really taken away when their songs are, within a short time, re-arranged and sung back to them in a totally different style.
For participants with learning and physical difficulties
The session consists of a mixture of performances – unaccompanied songs, incorporating dance and movement to make a strong visual impact. The performance is interspersed with descriptions about how the band formed and about their life and living conditions in Zimbabwe, questions are invited.
Option 1:
A song is chosen by the audience to teach to the band, possibly with the aid of songbooks, the band then perform the song back to the audience using their own rhythms and harmonies. This 'give and take' exchange of cultures and leveling of relationship between audience and performers is highly enjoyed.
Option 2:
Instead of the exchange of songs, the band invites some of the more outgoing participants to perform a song themselves.
Black Umfolosi will adapt certain aspects in response to the reactions and evident preferences of the participants.
Joint Performance and Crafts

For adults and children
This programme of interlinked performance and crafts, leads towards participation in the Black Umfolosi performance.
To begin with the band perform to the whole group, involving performance of songs and dance and giving some background to the history of the band, and outlining the plan for the day/days
This forms a coherent starting point, giving participants a clear idea of the kind of activities they will be involved in and a taste of the end product and their part in it.
The aim is to integrate the programme so that all activities lead towards the performance, and that each individual has the opportunity to participate in all or just preferred elements on offer.
Teachers or group leaders from the school or event supervise the craft workshops after consultation with Black Umfolosi.
Costumes are made to be worn by the performance participants, which they will be able to take home later.
A banner could be created to be used as the backdrop for the performance.
Alongside the craft workshops, members of Black Umfolosi will lead a capella and dance workshops.
Athough, for practical purposes, groups are generally divided into adults and children, families or mixed age groups can work together.
Exchanges AND LINKS
For those interested in continuing from one event.
Work can be done that can result in reciprocal visits, links with schools or communities in Zimbabwe, sending each other music, instruments, crafts etc, and exchanging information through letters and the internet.
Residency
Suitable for all age groups. Schools, universities, etc…
Black Umfolosi conduct several styles and types of residencies and collaborations. Some of these are produced with a particular theme and style in mind, exploring various issues affecting society.
Past residencies have explored children's rights in Zimbabwe and the UK. Helping children to deal with stereotypes and with problems understanding cultures and traditions different to their own.
Other residences to explore:
Aids awareness issues in Africa and elsewhere.
Race relations and racial harmony.
The arts in developmental education – to tackle specific issues as relevant to the needs of the venue or hosts.
Costume Making and Designing
Suitable for all age groups.
Groups of younger children will need assistance from teachers / assistants
Requirements
For Traditional Costumes
1 Hard cardboard boxes.
2 Ethnic printed cloth / fake fun fur (e.g. Zebra, Leopard)
3 Long bird Feathers
4 Plastic woven bags
5 Sheepskin or imitation sheepskin
6 Needles and thread
7 Black, white, red, orange and purple beads (small)
For Isicathamiya / Gumboot Dance
1 Plain white cloth
2 Choice of paints
3 Bottle tops
4 Wellington / Gum boots
For specific / themed projects or productions costume workshops can be adapted.
Research programs into African music & dance.
Enkundleni Centre For The Arts – A resource and training centre for the arts in Zimbabwe, established by Black Umfolosi.
Festival Enkundleni – annual festival held in November.
Information is available for those who would wish to know more about Black Umfolosi and their various programmes in Zimbabwe.
Please check back for upcoming tour information.